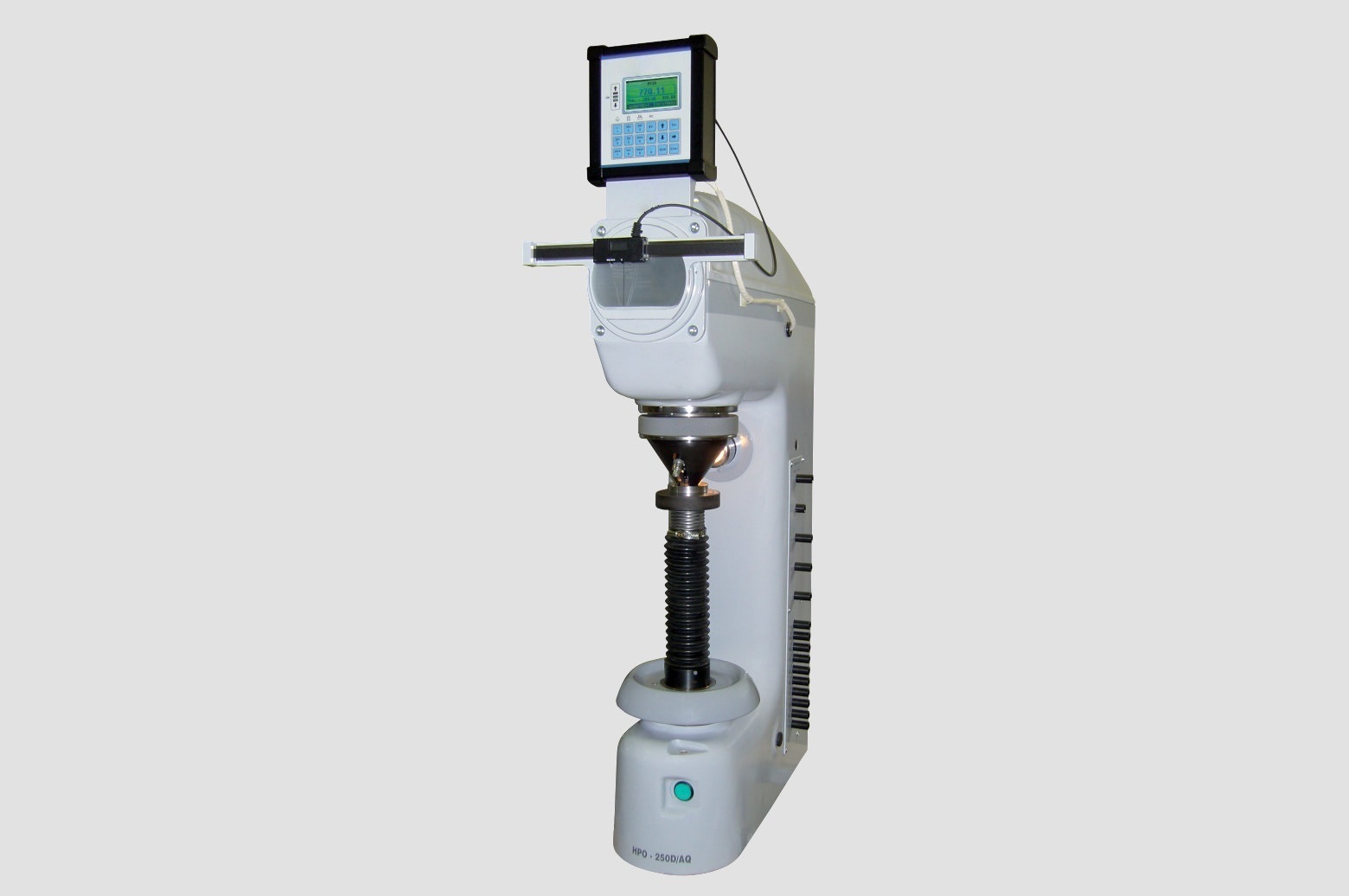 Hardness tester HPO-250/HT is intended for measurement of hardness with the Vickers method according to standard STN EN ISO 6507 and the Brinell method according to standard EN ISO 6506. The device is intended to measure of metal hardness and non-ferrous metals hardness in workshop spaces.
Hardness tester serves to measure the hardness of materials with the method Vickers (HV5 - HV120) and the method Brinell with the use of ball ø 2.5 mm, ø 5 mm for load (15.625 - 250) kg.
After starting the measurement, the mechanism of the device will be set to the position with the indenter and after finishing the measuring cycle, the mechanism will be set to the position with the objective. The created indent will then appear on visual field of the focusing screen. The indents are then evaluated by using digital device of electronics.
The possibilities of control electronics
language selection
selection the type and method of measuring BRINELL-VICKERS
option the time and date
data transfer to PC
calibration of device
protocol print in the chosen language
statistical result processing
Meas­ur­ement
maximum load: 2 452.5 N
measuring ball: ∅ 5 mm, ∅ 2.5 mm, ∅ 1 mm
diamond measuring: Vickers diamond with apex angle 136°
zoom: 35x, 70x, 140x
Technical parameters
device height: 970 mm
base l x w: 550 mm x 200 mm
max. working table diameter: ∅ 300 mm
max. height of measured sample: 220 mm (after agreement the possibility of increase - modification of the device)
weight: 130 kg
Design
colour: ivory in combination with grey
device design: cast-iron stand
Accessories
1 pc ball ø 5 mm
1 pc ball holder ø 5 mm
1 pc ball ø 2.5 mm
1 pc ball holder ø 2.5 mm
1 pc VICKERS diamond
1 pc working table ø 100 mm
1 pc hardness testing plate for HV
1 pc hardness testing plate for HBW